Merry Meet,
Here's my research project for Lesson One. I decided to do it on Blue Star Wicca. I may add another tradition if one catches my eye but for now this is it.
The Tradition's Founder(s)?
-
Blue Star Wicca was founded by one Frank Dufner
When and Where it Started?
-
Where and when it started – Established as a single coven in Philadelphia, Pennsylvania in 1975. After that it quickly spread throughout the US as two prominent members Tzipora Klein and her husband Kenny Klein, traveled the nation on a music tour.
Where is the Tradition Based?
-
Mostly based along the Eastern coast the tradition has covens through Canada and within Ireland and England as well.
What Gods and Goddesses Does it Use?
-
The choice of Gods and Goddesses used is completely up to the practitioners as Blue Star Wicca refers to itself as eclectic and doesn't focus on a specific pantheon.
Is There a Degree System?
-
Yes, the tradition is based on Gardnerian and Alexandrian traditions and as such as three main degrees. On a interesting note the tradition also uses two sort of Pre-initiation degrees, those of Dedicant and Neophyte. The first is used to refer to those who are followers of Pagan spirituality and interested in the tradition in general. The second is a rank for those who are under-going initiation into the tradition itself.
Does it Have any Tradition Publications?
-
No, the tradition is passed orally from member to member and though the coven is widespread it is close-knit and places emphasis on family values.
Other Interesting Information.
-
Other interesting information. The tradition has uses initiatory tattooing
(See Below)
as well as the use of song in in ritual during parts that are more generally spoken. Another fact of note is that this coven used the septegram
(See Top Picture)
during rituals in place of the more traditionally used pentagram. The altar is placed in the center of the circle and special importance is given to the placement of ritual tools. Due to the way in which it was spread the tradition was taught, at first, mostly through long-distance correspondence. However with the amount of members located around the States this practice as fallen to the way-side and though some of the practitioners consider themselves to be solitary the tradition requires initiation by a coven and does not accept self-initiation.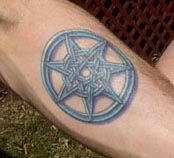 Blessed Be,
Myrenateli
Sources :
http://en.wikipedia.org/wiki/Blue_Star_Wicca
http://www.ravenstarcoven.org/bluestar